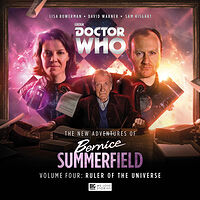 Cover blurb:
Bernice Summerfield is still trapped in a dying universe with the wrong Doctor. Things have taken a turn for the worse — the Doctor has become President Of The Universe and, it turns out, he's a controversial choice for the job.
While Bernice works to unearth the mythical Apocalypse Clock, the Doctor is immersed in the murky world of politics and the dark forces that are working against him.
As battlefleets fight and terrible deals are done, the peoples of the universe wonder if they've made a terrible decision.
Is the Doctor up to ruling the universe? Watching from the sidelines, the Master is quick to reassure everyone that he has no ambitions in that direction. And, meanwhile, the stars are going out...
THE CITY AND THE CLOCK by GUY ADAMS
ASKING FOR A FRIEND by JAMES GOSS
TRUANT by GUY ADAMS
THE TRUE SAVIOUR OF THE UNIVERSE by JAMES GOSS
PLUS: A BONUS BEHIND-THE-SCENES INTERVIEW DISC!