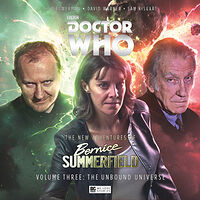 Cover blurb:
The wrong Doctor, the wrong universe, a whole heap of trouble — Bernice Summerfield is having a really bad day.
The Library In The Body by James Goss
In a dying reality knowledge is the only thing left of value — and the Kareem have come to destroy it. Can Bernice, the Doctor save the last library?
Planet X by Guy Adams
Bernice and the Doctor land on a planet so dull no-one ever bothered naming it. Finally something interesting is about to happen here.
The Very Dark Thing by Una McCormack
Tramatz is an idyllic world — the rivers hum to themselves, unicorns prance through the emerald forests, and, at the very corner of your eye, is a horrible secret.
The Emporium At The End by Emma Reeves
The Last Song has been sung, and the final day of the universe have begun. Everyone flees to the gateway — to find that The Emporium At The End is having a closing down sale.