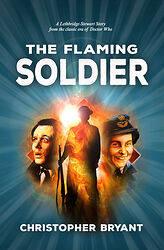 Note: A spin-off novella to accompany the Lethbridge-Stewart novel series, limited to 400 copies.
Cover blurb:
Brigadier Lethbridge-Stewart is investigating a series of cases of spontaneous combustion.
How can an inferno start inside a brick wall? Who or what are the ghost-like creatures spotted in the area around Imber Base?
Does it have anything to do with Eileen Younghusband, hotel proprietor, whose ordinary day is about to be interrupted by secrets from her past?
Traumatic events from the Second World War impact upon the present day and a mysterious aircraft could hold the key to the identity of the flaming soldier.