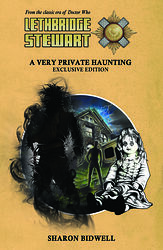 Edition:
UK (1st paperback)
Released:
February 2018

Publisher:
Candy Jar Books
ISBN:
None
Format:
paperback
Owned:
Buy:
Note: Limited edition of 400 copies which was supposed to be exclusively available from the Candy Jar website (hence why the cover says "Exclusive Edition"), however it was also available from Galaxy 4 for a time.
Cover blurb:
"The Brigadier is such an integral part of Doctor Who mythos, it seems right and proper he now has his own series."
Doctor Who Magazine
Brigadier Lethbridge-Stewart is not a man who likes to leave things unfinished. He is, therefore, at a loss when forced into taking leave after his recent tussle with a 'shadow creature', a case that has yet to be fully resolved.
Anne Travers is tired of the loss burning in her heart. So when Lethbridge-Stweart is called to Glencross to help the son of an old friend, she insists on going with him.
In Glencross, young Tomas Campbell has gone missing, and his friends band together to uncover the dark secret at the heart of the village. Meanwhile, Arthur Penrose has returned to his ancestral home to find a haunted residence, and a doll with a message.
What connects the doll to the strange sounds that scurry around Penrose Manor, why do the adults of Glencross seem so intent on keeping their children from leaving the village, and what has all this got to do with the 'shadow creature'?
It is up to Lethbridge-Stewart and Anne to find out.
A series of novels from the classic era of Doctor Who, starring Brigadier Lethbridge-Stewart and Anne Travers based on the characters and concepts created by Mervyn Haisman and Henry Lincoln.