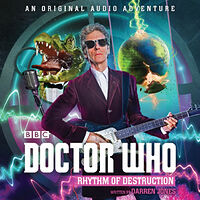 Cover blurb:
Dan Starkey reads an exclusive new audio adventure for the Twelfth Doctor — as played on TV by Peter Capaldi
The Doctor arrives on the uninhabited planetoid Quish, famous for having the biggest natural amphitheatre in the galaxy. The Blitzats Jazz Quartet are playing — but shortly afterwards the planetoid implodes.
Teaming up with ambitious journalist Tommy Loco, the Doctor learns that wherever the Quartet play, they leave a trail of destruction in their wake: someone dies; a city is wiped out; an entire planet vanishes... But why — and how?
Searching for the answers, the Doctor and Tommy trail the Quartet, following leads and seeking out frightened contacts. It's a dangerous investigation — and for the Doctor, answers lie close to home.
Dan Starkey, who played the Sontaran Strax in the hit BBC TV series, reads this original audiobook by Darren Jones.