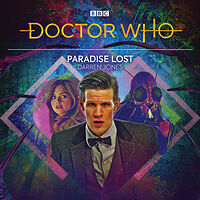 Note: Original audio featuring the 11th Doctor and Clara.
Cover blurb:
Jacob Dudman reads this original adventure for the Eleventh Doctor and Clara
On the edge of a nebula, the TARDIS lands on the strange planet of Foss, which is covered in dense and intricate minerals and vegetation.
The spindly, insect-like Fossians are suspicious of the Doctor and Clara, believing them to be on the side of the large, spider-like Drak-Arzin. But when the travellers meet the Drak-Arzin they discover that Foss is far more than a planet: it is, in fact, a giant life-form, nearing the end of its life-span. But what secret lies at the the heart of the Fossians' mine?
With the help of a young Fossian named Anura, the Doctor and Clara try to intermediate between Foss and its two warring people.
Jacob Dudman reads this brand new adventure for the Eleventh Doctor, as played on TV by Matt Smith.