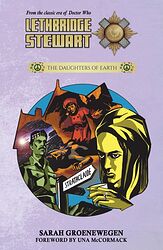 Note: Unusually, the title is printed on a gold sticker affixed to the front cover — presumably there was a printing error that resulted in the cover being printed without the title, necessitating the addition of the sticker.
Cover blurb:
To celebrate Lethbridge-Stewart's birthday, a romantic weekend is planned for him and Sally in a remote cottage in the Scottish Highlands. Unfortunately for Sally, freak weather causes her to crash her car.
Lethbridge-Stewart, meanwhile, is in Cairngorm investigating UFO sightings. Elsewhere, the Daughters of Earth, a women-only peace movement, are making waves in the political world, but just who is their enigmatic leader? And what links the Daughters with the events of Cairngom and Sally's accident?