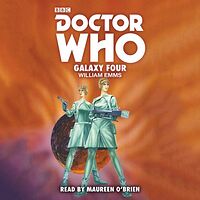 Note: Audio reading of William Emms' 1985 novelisation. Not to be confused with the TV audio soundtrack of the same story, released in 2000.
Cover blurb:
Maureen O'Brien reads this exciting classic novelisation of a First Doctor TV adventure
"This range of classic Target audiobooks continues to go from strength to strength..." Doctor Who Magazine
Following a skirmish in deep space, two alien spacecraft have crash landed on a barren planet in Galaxy Four. The Drahvins are a race of beautiful females, led by the imperious Maaga. The Rills are hideous tusked monstrosities, accompanied by their robotic servants, the Chumblies.
When the Doctor arrives, with companions Vicki and Steven in tow, he discovers that the planet will explode in two days' time. The Drahvins desperately seek his help in escaping the planet and the belligerent Rills. But things are not always as they seem...
Maureen O'Brien, who played Vicki in the BBC TV series, reads William Emms's complete and unabridged novelisation, first published by Target Books in 1986.