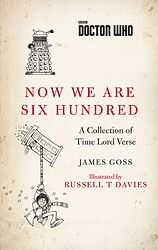 Edition:
US (hardback)
Released:
September 2017

Publisher:
Harper Design
ISBN:
978-0-06-268539-1
Format:
hardback
Owned:
Buy:

| | | |
| --- | --- | --- |
| | | (Unable to fetch price) |

New:

$24.99

$20.49 Save 18%
Used:
$32.99
Cover blurb:
I went into a box and it wasn't a box.
I asked the box to go wandering.
We could go to planets.
We could visit stars
Or Tuesday.
That box could go anywhere at all.
And so we did.

Inside cover flaps read as follows:
RETIRING
(after "Knight-in-Armour")
On days I don't want to Doctor much
I worry that I shall lose my touch
All that running down corridors
Thwartings of tyrants and dreadful bores
Brave rescues from the Foul Monster's Lair
And firm trouncing all the Demons there.
Chaos never ends, oh that's the shame
So yes I tire of just one more game.
Sometimes when the same old fight begins
I fear, just once, I'll let Evil win.
And then, on second thought, perhaps I won't
Because they're Monsters, and so I don't.
On days like that I don't think at all
That being the Doctor's so bad after all.

JAMES GOSS has adapted three Doctor Who stories by Douglas Adams for BBC Books (City of Death, The Pirate Planet, and The Krikkitmen). He's also written several original Doctor Who and Torchwood books. His novel #Haterz is in development as a motion picture. He's also written for the stage and radio. This is his first (and probably only) volume of poetry.
RUSSELL T DAVIES is a television writer, the creator of groundbreaking shows such as Queer as Folk, Bob & Rose, Casanova, Cucumber, and in 2018 A Very English Scandal for BBC One. He brought Doctor Who back to our screens in 2005, as well as creating the spinoffs Torchwood and The Sarah Jane Adventures.