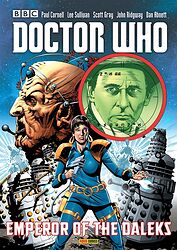 Description: Collection of Seventh Doctor comic strips from Doctor Who Magazine.
Cover blurb:
COLLECTED SEVENTH DOCTOR COMIC STRIPS — VOLUME 5
The Doctor, Ace and Bernice Summerfield continue their adventures in time and space in these collected comics from the pages of DOCTOR WHO MAGAZINE!
Featuring eight astonishing tales...
PUREBLOOD
FLASHBACK
EMPEROR OF THE DALEKS
UP ABOVE THE GODS
FINAL GENESIS
TIME & TIME AGAIN
CUCKOO
UNINVITED GUEST
The Doctor and Bernice are caught in a power struggle between Davros and the Daleks, and face the crazed killer called Abslom Daak!
The war between the Sontarans and the Rutans is finally about to end — unless the Doctor can save one of his deadliest enemies!
The Doctor takes Ace and Bernice to a parallel Earth where humans and Silurians live in peace — but death is coming for both species!
ALSO! An illuminating commentary section where the comics creators reveal the secrets behind the stories!
AN ESSENTIAL COLLECTION FOR FANS OF DOCTOR WHO AND CLASSIC BRITISH COMICS!