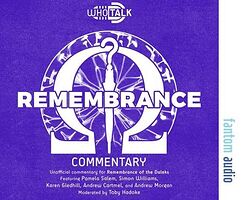 Note: Alternative audio commentary for the Remembrance of the Daleks DVD.
Cover blurb:
Remembrance of the Daleks opened Doctor Who's 25th anniversary in great style in 1988. Explosive, action packed, and at last proving that Daleks can go upstairs, it remains a favourite to this day.
In celebration of this classic serial, members of the cast and crew reunite to share their memories and experiences of working on the show in six new commentaries, including alternative tracks for episodes one and three.
Moderated by actor, comedian and cult television enthusiast Toby Hadoke, this release features Pamela Salem (Rachel), Simon Williams (Gilmore), Karen Gledhill (Allison), Andrew Cartmel (Script Editor), and Andrew Morgan (Director).