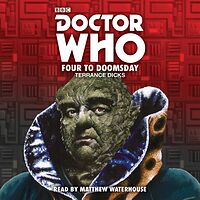 Note: Audio reading of Terrance Dicks' 1982 novelisation.
Cover blurb:
Matthew Waterhouse reads this exciting classic novelisation of a Fifth Doctor TV adventure
"This range of classic Target audiobooks continues to go from strength to strength..." Doctor Who Magazine
When the TARDIS materialises on an alien space craft, the commander of the ship — the reptilian Monarch — invites the Doctor, Adric, Nyssa and Tegan to continue their journey to Earth in his company.
Monarch's hospitality even extends to a generous offer to liberate the time travellers from the shortcomings of their bodies and replicate them as androids — so much more practical. Although Adric finds this proposal extremely attractive, the Doctor has good reason to be suspicious of Monarch's motives...
When the purpose of Monarch's impending visit to Earth is realised, a race against time begins. With the TARDIS stranded in space, the Doctor must use all his ingenuity to save mankind.
Matthew Waterhouse, who played Adric in the BBC TV series, reads Terrance Dicks's novelisation of a four-part TV serial by Terence Dudley, first published in 1983.