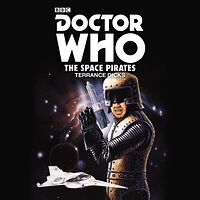 Description: Audio reading of Terrance Dicks' 1990 novelisation. Not to be confused with the audio soundtrack to the TV story of the same name, released in 2003.
Cover blurb:
Terry Molloy reads this exciting classic novelisation of a Second Doctor TV adventure
"BBC Audio's team gives these releases a hallmark of quality."
Doctor Who Magazine
When a series of explosive charges detonate, space beacon Alpha One disintegrates into lumps of metal. A band of space pirates have discovered a new source of the precious mineral argonite.
General Hermack of the Space Corps diverts his V-ship to investigate, and arrives in time to witness the destruction of another beacon. Determined to trap the pirates, he leaves a squad of guards on beacon Alpha Four — where, shortly afterwards, the incongruous shape of a blue police telephone box materializes.
Suspected by the Space Corps of being pirates, then pursued by the pirates themselves, the Doctor, Zoe and Jamie risk asphyxiation, execution and explosion in their attempts to unmask the mastermind behind the argonite raids. But who can it be?
Terry Molloy, who played Davros in the BBC TV series, reads Terrance Dicks's complete and unabridged novelisation of a 1969 serial by Robert Holmes, first published by Target Books in 1990.