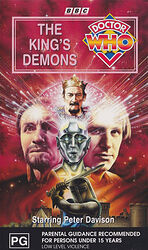 Note: New Zealand is the only country where this story was released separately. In Australia and everywhere else, it was released as a double pack along with The Five Doctors. (Although the New Zealand release simply appears to be the Australian tapes taken out of the box set and sold separately, since the Australian video certification is still plainly visible on the front cover)
Cover blurb:
'We sing in praise of total war; against the Saracen we abhor'
It is thirteenth Century England, and King John is visiting the castle stronghold of Sir Ranulf Fitzwilliam. Ranulf's personal fortune has dwindled away, freely donated to King John to help fund the Crusade. While staying with Ranulf, the King's greed is criticised by the baron's head-strong son, Hugh. As a result, Hugh is challenged to a duel by the monarch's enigmatic French Knight-At-Arms, Sir Gilles Estram, a duel the young Englishman has little hope of surviving.
When the TARDIS materialises and disturbs the joust, the Doctor's party are proclaimed friendly demons by the King, who seems strangely interested in their 'blue engine'. Before long the Doctor becomes embroiled in court politics, and he realises that there is far more to the situation than a simple battle of honour between nobles.
Ranulf's cousin, Sir Geoffrey de Lacey, arrives at the castle and is astonished to find the King present. He has just left His Majesty in London preparing to sign Magna Carta, a document that will shape the future of democracy in the western world. The Doctor learns that neither the King nor Sir Giles Estram are exactly who they claim, and that their true identities involve a battle-ravaged alien planet light-years away, and one of the Doctor's oldest and deadliest enemies...
Originally transmitted 15th March to 16th March 1983
Approximately 44 minutes into this programme there is a major visual fault. Unfortunately this second of footage is irrepairable. We apologise for any inconvenience.