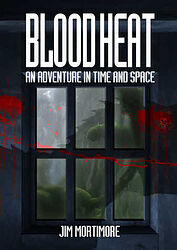 Edition:
UK (hardback)
Title:
Blood Heat: An Adventure in Time and Space
Released:
November 2015 (Exact date unconfirmed)

Publisher:
Cauldron Press
ISBN:
978-1-326-50029-0
Format:
hardback
Owned:
Buy:
Note: Expanded "director's cut". Nearly twice as long as the original, this new edition expands the novel by including both previously-deleted and newly-written scenes; plus new prologue material, an updated version of the prelude (originally published in Doctor Who Magazine), and approx 40,000 words of new material featuring Jo Grant and Bernice Summerfield. More information available direct from the author via email at: jimbo-original-who@hotmail.com
Cover blurb:
"You want to see your child? I want to see you beg. Get down on your knees, you damn animal."
EARTH: 1993
A world undergoing quantum collapse, overrun by predators, torn apart by rage.
EARTH: 1993
A world where identity can shift as often as a butterfly flaps its wings. A world where two warring species are toppling violently over the brink of extinction.
EARTH: 1993
The last world left in the multiverse. A world facing destruction only one person can stop.
But that person died. Two hundred million years ago...

The blurb inside the dustjacket flaps reads as follows:
Life came to Earth from space on a seed of interstellar flotsam weighing no more than a family cat. From that moment the planet waged a war with itself which would outlast even the death of its star. Early combatants in this war fought mindlessly and without tools. But nothing drives innovation, biological or technological, like conflict. Later fighters in this war used their most potent weapon to name it: evolution, which only the fittest could ever survive. But in the haste to annhilate, the truth, as sometimes happens, was lost. Mammal. Reptile. Fish. Bird. Insect. Plant. Fungi. Virus. We are all alien. If this island Earth was ever our home it is only because we have occupied it with nothing short of ceaseless violence. Darwin was right. There is no god. Only a never-ending war from which the only rest there can ever be...
... is extinction.

JIM MORTIMORE
is an award winning graphic designer and composer who turned to writing as a desperate ploy to avoid proper work.
This wacky bumper volume of Blood Heat is Jim's slightly peculiar attempt to polish up his first solo novel for Virgin for a more quantum mechanically clued-in readership.