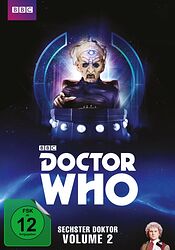 Note: German-exclusive 6th Doctor box set ("Sechster" means "Sixth"), containing the stories from the second half of Season 22: The Two Doctors, Timelash and Revelation of the Daleks. The first half of Season 22 was contained on the Sechster Doktor Volume 1 box set instead. Followed by Sechster Doktor Volume 3 (i.e. The Trial of a Time Lord).
Cover blurb:
No cover information available yet.
Help wanted! Do you own this item? Please help make this site more complete by emailing me details of the back cover blurb. Thanks!