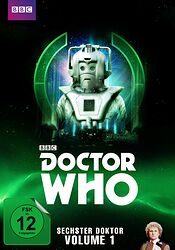 Note: German-exclusive 6th Doctor box set ("Sechster" means "Sixth"), containing the stories from Colin Baker's debut The Twin Dilemma through to the mid-point of Season 22 (i.e. including Attack of the Cybermen, Vengeance on Varos and The Mark of the Rani). The rest of Season 22 is contained on the Sechster Doktor Volume 2 box set instead.
Cover blurb:
No cover information available yet.
Help wanted! Do you own this item? Please help make this site more complete by emailing me details of the back cover blurb. Thanks!