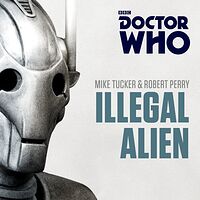 Note: Audio reading of the 7th Doctor novel.
Cover blurb:
Sophie Aldred reads an original novel featuring the Seventh Doctor and Ace pitted against the Cybermen
The Blitz is at its height. As the Luftwaffe bomb London, Cody McBridge, ex-pat American private eye, sees a sinister silver sphere crash-land. He glimpses something emerging from within. The military dismiss his account of events — the sphere must be a new German secret weapon that has malfunctioned in some way.
What else could it be?
Arriving amid the chaos, the Doctor and Ace embark on a trail that brings them face to face with hidden Nazi agents, and encounter some very old enemies...
A complete and unabridged reading by Sophie Aldred, who played the Doctor's companion Ace in the BBC TV series.