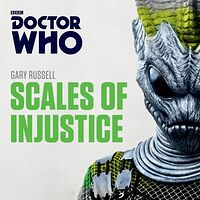 Description: Audio reading of the Doctor Who Third Doctor novel of the same name.
Cover blurb:
Dan Starkey reads this original adventure novel featuring the Third Doctor, as played on TV by Jon Pertwee, his companion Liz Shaw and UNIT
When a boy goes missing and a policewoman starts drawing cave paintings, the Doctor suspects the Silurians are back. With the Brigadier distracted by questions at home, the Doctor swears his assistant Liz Shaw to secrecy and investigates alone.
But Liz had [sic] enquiries of her own, teaming up with a journalist to track down people who don't exist. What is the mysterious Glasshouse, and why is it so secret?
As the Silurians wake from their ancient slumber, the Doctor, Liz and the Brigadier are caught up in a conspiracy that reaches deep into the heart of the British Government.
A complete and unabridged reading by Dan Starkey, who plays the Sontaran Strax in the BBC TV series.