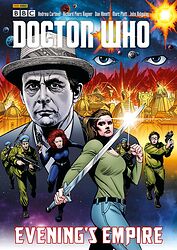 Description: Graphic novel containing a selection of early 1990s Seventh Doctor comic strips from the pages of Doctor Who Magazine.
Cover blurb:
COLLECTED SEVENTH DOCTOR COMIC STRIPS — VOLUME 4
The Doctor and Ace continue their adventures in time and space in these collected comics from the pages of DOCTOR WHO MAGAZINE!
Featuring seven astonishing tales...
EVENING'S EMPIRE
THE GRIEF
RAVENS
MEMORIAL
CAT LITTER
CONFLICT OF INTERESTS
LIVING IN THE PAST
Ace is trapped inside a monstrous fantasy kingdom as the Doctor and UNIT race to find her...
An archeological expedition on the planet Sorsha unleashes a terrifying threat from history...
As a vicious street gang hunts for prey, the Doctor encounters a samurai warrior who has lost all hope...
A man lost in memories of war meets the Doctor and Ace, and discovers an amazing truth about his past...
The TARDIS decides to do some spring-cleaning — and Ace is caught up in the madness that follows!
ALSO! An in-depth commentary section where the comics creators reveal the secrets behind the stories!
AN ESSENTIAL COLLECTION FOR FANS OF DOCTOR WHO AND CLASSIC BRITISH COMICS!