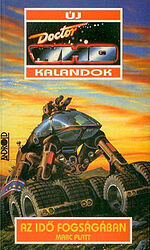 Edition:
Hungary (paperback)
Title:
Új Doctor Who Kalandok: Az Idö Fogságában
Released:
January 1993

Publisher:
Android
ISBN:
963-7755-81-0
Format:
paperback
Owned:
Note: This was the only non-English translation ever published of a New Adventures novel. The unusual front cover art has nothing to do with Doctor Who — it simply re-uses the cover painting from a 1979 reprinting of the Frank Herbert novel The Santaroga Barrier.
Cover blurb:
A Gallifrey bolygóról származó Dr. WHO, egy Ace nevű földi lány társaságában vándorol TARDIS nevű tér-idő hajóján a dimenziók és az idősíkok között.
Földi tartózkodásuk közben valami behatol a TARDIS-ba, és megrongálja. Amikor folytatják útjukat, a doktor elindul, hogy megkeresse a hibát. Ace-t közben ismeretlen térbe és időbe juttatja a hibás gép, egy romvárosba, amelyet az idő folyója oszt többfelé. A város egyik része a régebbi múltban, másik része a közelmúltban, a harmadik része a jelenben létezik. Akit tehát átkel a folyón, az ide-oda vándorol az idősíkok között. A várost két gonosz szörny tartja uralma alatt. Dr. WHO izgalmas kalandok során elpusztítja őket, s ezzel megmenti a város rabszolgasorsra ítélt lakóit is.
A könyv izgalmas, fordulatos, a műfaj legújabb hagyományait folytatja. Igazi, Csillagok háborújához hasonlító űrmese.
A műholdas csatornákról jól ismert Dr. WHO sorozat legújabb epizódjait 1993 novemberétől már könyv formájában is élvezhetik!
A jövő évben két hónaponként találkozhatnak Dr. WHO-val, a Galaxis egyik nagyhatalmú Időurával, aki minden eszközzel harcol a Galaxisban felbukkanó gonosz ellen.