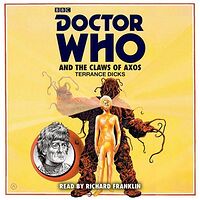 Note: Audio reading of Terrance Dicks' 1977 novelisation.
Cover blurb:
Richard Franklin reads this exciting classic novelisation of a Third Doctor TV adventure featuring the Master
"BBC Audio's team gives these releases a hallmark of quality."
Doctor Who Magazine
'Axos calling Earth, Axos calling Earth...' The creatures stood before them, offering friendship and their priceless Axonite, in return for — what?
When an Unidentified Flying Object arrives in England, the Doctor, Jo and UNIT are quickly on the scene. Inside the strange craft they meet the Axons, beautiful golden creatures who offer a fantastic gift to humanity. Governments around the world are soon clamouring to get their hands on it.
Only the Doctor remains suspicious. What is the real reason for the Axon's sudden arrival on Earth? And why is the evil Master a passenger on their spaceship? He very soon finds out...
Richard Franklin, who played Captain Mike Yates in the BBC TV series, reads Terrance Dicks's complete and unabridged novelisation, first published by Target Books in 1977.