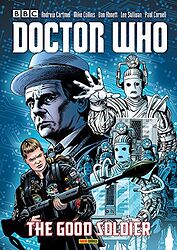 Note: 7th Doctor graphic novel, containing reprints of 1990s comic strips from Doctor Who Magazine.
Cover blurb:
COLLECTED SEVENTH DOCTOR COMIC STRIPS — VOLUME 3
Join the Seventh Doctor and Ace in thrilling comic strip adventures in time and space, collected from the pages of DOCTOR WHO MAGAZINE!
Featuring nine incredible adventures:
FELLOW TRAVELLERS, DARKNESS FALLING, DISTRACTIONS, THE MARK OF MANDRAGORA, PARTY ANIMALS, THE CHAMELEON FACTOR, THE GOOD SOLDIER, A GLITCH IN TIME and SEASIDE RENDEZVOUS — plus two short text stories featuring the Seventh Doctor: TEENAGE KICKS and SCREAM OF THE SILENT
Im these stories... The Seventh Doctor and his companion Ace travel to a lonely house with a dark secret. The Doctor once again encounters the Mandragora Helix, which has managed to survive inside the TARDIS after the events of the TV story The Masque of Mandragora. From there, the Doctor and Ace arrive at Maruthea, at the centre of the space-time vortex, for a birthday party attended by a few strangely familiar faces. And when the time-travellers arrive in 1954 Nevada, they are soon locked in battle with one of the Doctor's oldest and deadliest enemies...
PLUS! A commentary section where the writers and artists reveal the stories behind the strips. Featuring never-before-published artwork, original story outlines and much more!
AN ESSENTIAL COLLECTION FOR FANS OF DOCTOR WHO AND CLASSIC BRITISH COMICS!