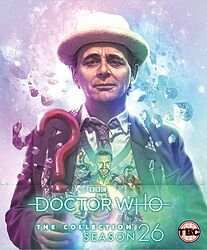 Edition:
UK (Blu-ray)
Released:
January 2020

Publisher:
BBC Video
Format:
7 x Blu-ray
Owned:
Buy:
Cover blurb:
BUILD YOUR OWN DOCTOR WHO ARCHIVE WITH THE ULTIMATE COLLECTOR'S SET!
• BATTLEFIELD • GHOST LIGHT
• THE CURSE OF FENRIC • SURVIVAL
All 14 episodes newly restored for Blu-ray and packed with BRAND NEW EXTRA MATERIAL including:
RARE EXTENDED VHS VERSIONS of Battlefield and The Curse of Fenric
GHOST LIGHT - EXTENDED EDITION WORKPRINT Brand new and exclusive to Blu-ray
BURIED TREASURE: 30 YEARS OF FENRIC A brand new one-hour Making-Of documentary with Sylvester McCoy, Sophie Aldred, Tomek Bork, Nicholas Parsons, Cory Pulman, Ian Briggs, Andrew Cartmel, Mark Ayres, Marek Anton, Stephen Mansfield and Ian Collins
IN CONVERSATION Matthew Sweet chats to Sophie Aldred
SHOWMAN — THE LIFE OF JOHN NATHAN-TURNER A feature-length look at the life of Doctor Who's longest-serving producer
THE WRITERS' ROOM Ben Aaronovitch, Marc Platt, Ian Briggs, Rona Munro and Andrew Cartmel discuss Season 26
BEHIND THE SOFA New episodes with Sylvester McCoy & Sophie Aldred, companions Janet Fielding, Sarah Sutton & Anneke Wills, and Thirteenth Doctor writers Pete McTighe & Joy Wilkinson
BECOMING THE DESTROYER Learn how cast and crew brought this fearsome monster to life
RARE ARCHIVE DISCOVERIES Including previously unseen studio and location footage
BLU-RAY TRAILER: THE PROMISE Ace returns! Sophie Aldred back in character for the first time since 1989.
IMMERSIVE 5.1 SURROUND SOUND On every version of every episode!
PDF WRITTEN ARCHIVE Scripts & rare archive material
Each disc also features extensive Special Features previously released on DVD including MAKING-OF DOCUMENTARIES, SPECIAL EDITIONS, FEATURETTES, DELETED SCENES, ISOLATED MUSIC SCORES, AUDIO COMMENTARIES, INFO TEXT AND MUCH MORE.