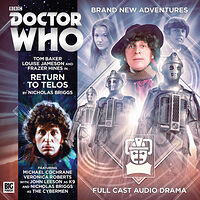 Cover blurb:
The Doctor reveals to Leela that they're heading for the planet Telos. And K9 has new masters...
On Telos, in the past, the Second Doctor and Jamie are exploring the 'tomb of the Cybermen'.
Meanwhile, the Cyber-Controller and Cyber-Planner consolidate their plans. Spare parts from Krelos are being used to construct a mighty Cyber army. The Doctor must be captured.
Out of control, the TARDIS tumbles down a chasm and the Doctor and Leela find themselves caught up in full-scale planetary invasion.