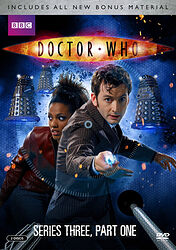 Note: Contains the episodes from The Runaway Bride to The Lazarus Experiment. There are no DVD special features except for the making-of featurette "A New Dimension", which is exclusive to this release.
Cover blurb:
Series Three of Doctor Who sees Tenth Doctor David Tennant (Broadchurch, Harry Potter and the Goblet of Fire) unite with a new companion, Martha Jones (Freema Agyeman, Law and Order UK, Torchwood) to fight against fearsome foes both old and new. From an encounter with Shakespeare in Elizabethan England to a trip to New New York in the far future to 1930s Manhattan suffering from an invasion by the evil Daleks, this set of episodes provides some of Doctor Who's greatest adventures yet!
THE RUNAWAY BRIDE / SMITH AND JONES / THE SHAKESPEARE CODE / GRIDLOCK / DALEKS IN MANHATTAN / EVOLUTION OF THE DALEKS / THE LAZARUS EXPERIMENT
SPECIAL FEATURE: DOCTOR WHO: A NEW DIMENSION
Newly produced look back at the making of these breathtaking episodes.