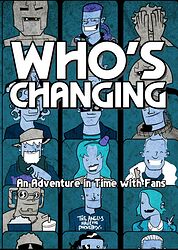 Note: Region 0 PAL DVD. More information at: www.whoschanging.co.uk. Was the subject of a crowdfunding campaign on Indiegogo in late 2013 which raised over £5,000.
Cover blurb:
From earliest memories to fan creativity to people running the show, Who's Changing is a unique Doctor Who documentary, or Whomentary, that takes a look at how fandom has changed so drastically over the years.
Charting its rise from church halls in the Seventies to exhibition centres across the world today, we chat to those who were there at the very start of Doctor Who fandom and those who kept the fire burning all those years and now those who celebrate in the most imaginative and brilliant of fashions.
Who's Changing is a fun and fascinating look at how fans have changed with the times, just like Doctor Who did, and how these very fans and their amazing creativity go on from strength to strength and sometimes, just sometimes, end up in the show itself.
FEATURING
Sophie Aldred
Louise Jameson
Neve McIntosh
Dan Starkey
Catrin Stewart
Caitlin Blackwood
Simon Fisher-Becker
Spencer Wilding
Gary Russell
Jane Espenson
Eric Saward
James Moran
Dan Slott
Tony Lee
Richard Starkings
Josh Adams
Simon Furman
and many more
EXTRAS
Full EXTENDED interviews with:
Sophie Aldred
Louise Jameson
Neve McIntosh
Simon Fisher-Becker
Dan Starkey