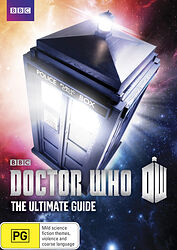 Note: DVD release of the 2-hour long BBC Three documentary, first aired in the UK on 18th November 2013. Although this standalone release is an Australian exclusive, the documentary itself was also released in other countries as part of the 50th Anniversary Collector's Edition box set.
Cover blurb:
Matt Smith and Jenna Coleman celebrate the 50th anniversary of the space-travelling Time Lord and take an in-depth look at of one of the most intriguing fictional characters of all time.
We explore the eleven incarnations of the Doctor to date, and their most famous scenes and storylines. Plus, a look at the Doctor's many travelling companions and adversaries over the years and how they all contribute to creating the longest running science fiction show of all time.
Featuring David Tennant, Paul McGann, Sylvester McCoy, Noel Clarke, and many more.