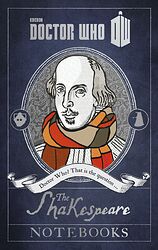 Edition:
UK (1st hardback)
Released:
June 2014

Publisher:
BBC Books
ISBN:
978-1-84990-811-5
Format:
hardback
Owned:
Buy:
Cover blurb:
The back cover contains a close up of the familiar "Police Telephone: Pull to Open" sign from the TARDIS door, but in mock Elizabethan English as follows:
FOR THE SUMMONING
OF THE WATCH
WITHOUT LEVY
FOR USE OF
ALL PERSONS
ADVISEMENT AND SUCCOUR
MAY BE GARNERED AT ALL TIMES
OFFICERS OF THE WATCH
AND CONVEYANCES
HERETO MAKE THEIR PASSAGE
UPON ALL SUMMONSES
PRITHEE, PULL TO OPE
Inside cover flaps read as follows:
Many people know about WILLIAM SHAKESPEARE'S famous encounter with the Doctor at the Globe Theatre in 1599. But what few people know (though many have suspected) is that it was not the first time they met.
Drawn from recently-discovered archives, The Shakespeare Notebooks is the holy grail for Bard scholars: conclusive proof that the Doctor not only appeared throughout Shakespeare's life, but had a significant impact on his writing. In these pages you'll find early drafts of scenes and notes for characters that never appeared in the plays; discarded lines of dialogue and sonnets; never-before-seen journal entries; and much more.
From the original notes for Hamlet (with a very different appearance by the ghost) and revealing early versions of the faeries of A Midsummer Night's Dream, to strange stage directions revised to remove references to a mysterious blue box, The Shakespeare Notebooks is an astonishing document that offers a unique insight into the mind of one of history's most respected and admired figures. And also, of course, William Shakespeare.
WILLIAM SHAKESPEARE is the world's greatest ever playwright. Born in 1564, he split his time between Stratford-Upon-Avon and London where he worked as a playwright, poet and actor. In 1582 he married Anne Hathaway. Shakespeare died in 1616 at the age of 52, leaving three children — Susanna, Hamnet and Judith. The rest is silence.
THE DOCTOR is from Gallifrey in the constellation of Kasterborus [sic]. He has been saving the universe for centuries, and is a noed Shakespeare expert and name-dropper. In addition to writing out the first draft of Hamlet (after Shakespeare strained his wrist writing sonnets), the Doctor also helped the great playwright banish the Carrionites to the Deep Darkness. The Doctor has a granddaughter (probably) and lives in his TARDIS.