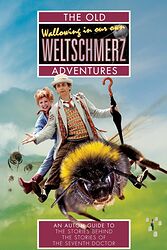 Note: A humourous overview of the Seventh Doctor era from the creators of Auton, the irreverent adults-only Doctor Who fanzine from the 1990s. Available with two variant cover designs: a "New Adventures"-style cover (pictured), and a second cover in the style of the 1990s Virgin novelisation reprints.
Cover blurb:
An Auton Guide to the Stories Behind the Stories of the Seventh Doctor
Foreword: Andrew Cartmel, Additional Treats: Stephen Wyatt and Graeme Curry
Doctor Who is now in its fifty-first year and enjoying its 12th 13th 14th latest of many actors to take on the lead role. Every era is different, each actor brings their own style to the role, each producer and script editor makes their mark and probably Sylvester McCoy's era is one of the most divisive among fandom.
It's a dynamic three years blowing cobwebs off the memory of recent cancellation. The Doctor and the series develop over forty-seven episodes until finally, sadly, just as things are on the up, the show is cancelled again.
The Auton guide to the stories behind the Seventh Doctor's era answers all the questions fans haven't been asking :
Cleaning Robots: What can you actually clean with a drill and a saw blade? We tried.
Who built the Rani's lair? How long did it take?
Harry's 70+ — how old is his wife if she's having twins in a few weeks?
Why is the Psychic Circus so-called?
Why do Rezzies eat Kangs when they've got a ready supply of teacakes, crumpets, muffin, basil and fresh cream?
Now that we have a 'Special Weapons' Dalek, should we re-label all the other Daleks?
And how did Delta fit into Mel's dress?
We worry about these things so you don't have to. It's been a long time since Auton visited Doctor Who. Aided by the illustrations of Andy X Cable it's time to get it out of our system.
Build high for happiness.
SOME THEMES AND IMAGES IN THIS BOOK ARE OF AN ADULT NATURE, ALBEIT IN A PLAYFUL WAY. FOR THIS REASON, DISCRETION IS ADVISED FOR YOUNGER READERS.
AUTHOR'S PROCEEDS FROM THE SALE OF THIS BOOK WILL BE DONATED TO ALZHEIMER'S SOCIETY.