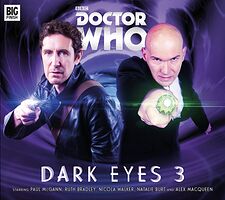 Note: Eighth Doctor audio box set, sequel to Dark Eyes and Dark Eyes 2, and followed by Dark Eyes 4. Contains 4 audio dramas: The Death of Hope, The Reviled, Masterplan and Rule of the Eminence, all by Matt Fitton.
Cover blurb:
"Molly O'Sullivan? Hello you."
A war rages between humanity and an implacable enemy. From the jungles of Ramossa to the dusty frontiers of Heron's World, mankind has been imprisoned, embattled, defeated.
The Master wants to use this fight for his own ends, and will rewrite history to become the ultimate power in the cosmos.
But the Doctor is on his trail. To save his friends, he tracks his foe through history: from the conflict's mysterious origins all the way to the final victory — but victory for which side?
As the Doctor goes head to head with his oldest and deadliest rival, this intergalactic war is about to get very personal indeed...