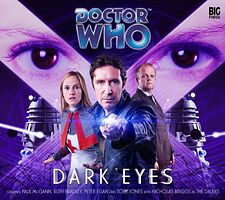 Description: CD box set starring the Eighth Doctor and featuring four original audio dramas by Nicholas Briggs: The Great War, Fugitives, Tangled Web and 'X' and the Daleks.
Cover blurb:
'I really hoped it would be a wonderful view... to look back from the end of everything... to see how things finally turned out.'
The Doctor is looking for hope. But instead, he finds himself on a mission. The Time Lords have uncovered terrifying fragments of an insane plot to destroy the universe. And somehow, at the centre of that plot, is one random female in Earth's history, Molly O'Sullivan.
Soon, the Doctor and Molly find themselves thrown headlong into a series of dangerous and terrifying adventures, with the dreaded Daleks never far behind them.