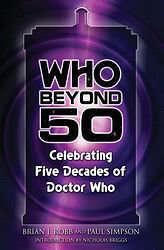 Cover blurb:
Few television series have remained in production for decades. Fewer have come back from cancellation. And even fewer have thrived following the loss of their lead actor. Amazingly, Doctor Who can proudly boast all three claims. The British science fiction program, produced by the BBC, depicts the adventures of an extraterrestrial Time Lord known as the Doctor, who explores the universe with a variety of companions in his TARDIS (Time and Relative Dimension in Space), a time-travelling spaceship resembling a blue police call box.
Doctor Who aired an astounding 26 seasons during its first incarnation, from 1963 to 1989, with seven actors in the title role, each differing from his predecessor in appearance and in personality. The show has come back from the grave twice, first in a 1996 TV movie, and then as a much-renowned revival series that has run from 2005 to date. The show is a significant part of British popular culture, and has evolved as a cult favorite in the United States and worldwide.
Brian J Robb and Paul Simpson have assembled 50 thematic, chronological essays covering a wide variety of Who icons over the past five decades. The long-time collaborators posted preliminary versions at Sci-Fi Bulletin, but have delved into far greater detail for this collected edition, examining not only the show itself, but the background of each actor to play the role of the Doctor and each showrunner who helped keep the show alive, as well as the novels, the audios, the monsters, the companions, the music, the effects, fandom, and much more.
But Who Beyond 50 is more than just another TV retrospective. It's a grand exploration of one of the most beloved series of all time. It's a celebration of Who's surprises and successes, and an honest account of its faults and failures. It's all here. And it's about time.