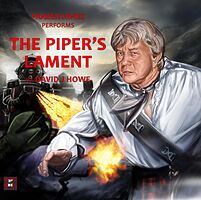 Note: Not technically a Doctor Who audio as this audio drama studiously avoids any direct mention of the programme, however the inference is that the un-named title character is an elderly Jamie McCrimmon reminiscing about his earlier life and adventures. Only available from Frazer Hines' official website.
Cover blurb:
'Would you like to know how it all started? What I can remember?'
A nameless and unknown Highlander sits in a tavern reminiscing about his past to a stranger. The Highlander has been plagued with strange dreams and memories all his life, and recounts some of his adventures: from the death of his beloved mother at the drunken hand of a Redcoat, to his rehabilitation in a strange town, and the events that unfold there.
Actor FRAZER HINES reads this tale of love and loss, and brings to life the past history of a lonely and troubled Scot.