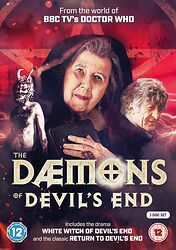 Note: Region 0 DVD. Originally scheduled for October 2013, but extensively delayed. Contains the 1993 documentary Return to Devil's End (previously only available on VHS) plus the new drama White Witch of Devil's End, intended as a loose follow-up to classic 1971 Doctor Who story The Dæmons and starring Damaris Hayman reprising her role as Miss Hawthorne from that story. More details on the co-author's blog. Also available as a novelisation. Each of the two halves of this release are also available separately on DVD: White Witch of Devil's End and Return to Devil's End.
Cover blurb:
Two unique productions based on the BBCtv DOCTOR WHO story THE DÆMONS!
NEW ORIGINAL DRAMA!
WHITE WITCH OF DEVIL'S END stars DAMARIS HAYMAN, reprising her role as Olive Hawthorne from THE DÆMONS. In this six-part drama series, Olive tells the story of her life from childhood to her final days as the magical guardian of Devil's End, fighting every face of evil imaginable. Olive must defend the village ... but what happens as she reaches the end of her life? Who will protect the townsfolk then?
CLASSIC DOCUMENTARY!
RETURN TO DEVIL'S END was filmed at the village of Aldbourne in 1992 and stars JON PERTWEE (The Third Doctor), NICHOLAS COURTNEY (The Brigadier), RICHARD FRANKLIN (Capt. Yates), JOHN LEVENE (Sgt. Benton) and director, CHRISTOPHER BARRY. NICHOLAS BRIGGS (the voice of the Daleks in DOCTOR WHO) takes the stars of THE DÆMONS on a trip down memory lane, deftly gleaning stories and anecdotes about filming this classic series in 1971. It is considered one of the best documentaries about DOCTOR WHO ever made.
Both discs packed with bonus features, making this a totally unique box set!
PLUS! A third bonus disc, containing videos of conventions held in Aldbourne celebrating one of the most popular DOCTOR WHO stories ever made!