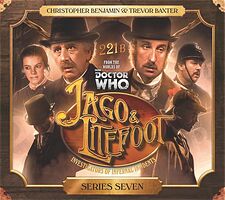 Note: Contains 4 audio adventures: The Monstrous Menagerie by Jonathan Morris, The Night of 1000 Stars by James Goss, Murder at Moorsey Manor by Simon Barnard and Paul Morris, and The Wax Princess by Justin Richards.
Cover blurb:
FOUR FULL-CAST ADVENTURES!
Starring CHRISTOPHER BENJAMIN & TREVOR BAXTER
With LISA BOWERMAN, LOUISE JAMESON & CONRAD ASQUITH
THE MONSTROUS MENAGERIE
Jago and Litefoot are on the run! Framed for a crime they didn't commit, the infernal investigators seek refuge in a house on Baker Street owned by their old friend, Professor Dark.
THE NIGHT OF 1000 STARS
Leela is back! With a murderous beast on the loose, Jago, Litefoot, Ellie and Leela are trapped in Baker Street. Their pasts will be unfolded, secrets will be told...
MURDER AT MOORSEY MANOR
Jago and Litefoot arrive at a gathering of Sherlock Holmes fans, who are mourning the death of their idol at Reichenbach Falls.
THE WAX PRINCESS
Jack the Ripper has escaped from custody! As the notorious killer strikes again in London, Jago and Litefoot are drawn into a web of intrigue.