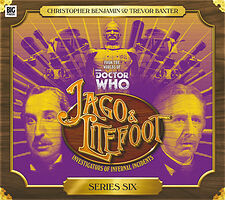 Note: Contains 4 audio dramas: The Skeleton Quay by Jonathan Morris, Return of the Repressed by Matthew Sweet, Military Intelligence by George Mann and The Trial of George Litefoot by Justin Richards. Also includes a bonus CD of behind-the-scenes material.
Cover blurb:
FOUR FULL-CAST ADVENTURES!
Starring CHRISTOPHER BENJAMIN & TREVOR BAXTER
With LISA BOWERMAN, CONRAD ASQUITH & GEOFFREY WHITEHEAD
THE SKELETON QUAY
Henry Gordon Jago and Professor Litefoot are back in the familiar fog-shrouded streets of Victorian London, but a new calling awaits them...
RETURN OF THE REPRESSED
Henry Gordon Jago is troubled. He's having disturbing dreams and the waking hours aren't much better...
MILITARY INTELLIGENCE
There are Sentinels on the streets of London, killing without mercy. Jago and Litefoot move closer to confronting the enemy of the Crown.
THE TRIAL OF GEORGE LITEFOOT
Professor Litefoot stands accused of murder, and the court is determined to find him guilty. His only salvation lies in the most unexpected hands...