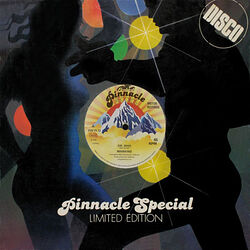 Edition:
UK (2nd 12" single)
Released:
November 1978

Publisher:
Pinnacle Records
Format:
12" single
Owned:
Buy:
Note: Catalog number: PIN 71-12. An unusually large number of variations exist for this release due to Pinnacle Records taking over the distribution of the single from Motor Records (shortly after the release of the first 12" version), plus multiple re-pressings resulting from the single's popularity:
There were at least three available sleeve designs for this release: the original "man with open head" art from the Motor Records 12" single (as seen above) but with a Pinnacle Records label stuck to the disc (replacing the Motor label). Then, at some stage the picture sleeve was replaced with two different generic Pinnacle sleeves: the "disco" design pictured here and a yellow "clouds and sunbeams" design.
At least two different "Pinnacle Records" label designs could be found on the disc itself: a full colour one (as pictured), and a black-on-grey version.
And finally, the vinyl disc itself was available in a number of different colours: red, green, yellow, white/grey, brown, clear, multicoloured and two different shades of blue!
Cover blurb:
None.
Track listing:
Same as previous 12" single.