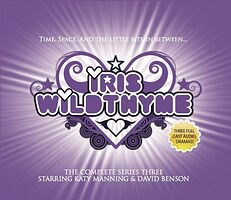 Note: Box set of three audio dramas. Unlike the Series Two box set, none of the audios here have been released separately — all are exclusive to this box set.
Cover blurb:
Three Full Cast Audio Dramas
Starring Katy Manning & David Benson
Directed by Gary Russell
The Iris Wildthyme Appreciation Society by Cavan Scott
Iris Rides Out by Guy Adams
Midwinter Murders by George Mann
Iris Wildthyme is on the run. Pursued across the multiverse by a mysterious assailant, Iris faces horrors, supernatural terrors and homicidal villagers. With the redoubtable Panda at her side, time is running out for everyone's favourite transtemporal adventuress.
Also starring Marcus Hutton as Thomas Carnacki and Stewart Bevan as Inspector Nettles.