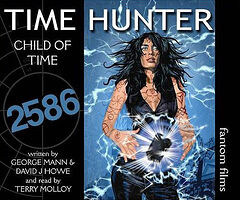 Note: Audio reading of the 2007 book which was eleventh (and last) in the series of Time Hunter Doctor Who spin-off novellas.
Cover blurb:
When Honoré and Emily investigate the bones of a young woman in the ruins of a collapsed house, they are thrown into a thrilling adventure that takes them from London in 1951 to Venice in 1586 and then forward a thousand years, to the terrifying, devastated London of 2586, ruled over by the sinister Sodality.
What is the terrible truth about Emily's forgotten past? What demonic power are the Sodality plotting to reawaken? And who is the mysterious Dr Smith?
All will be revealed in the stunning conclusion to the acclaimed Time Hunter series.