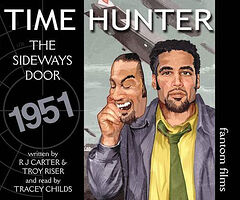 Note: Audio reading of the 2006 book which was tenth in the series of Time Hunter Doctor Who spin-off novellas.
Cover blurb:
Honoré and Emily find themselves in a parallel timestream where their alternate selves think nothing of changing history to improve the quality of life — especially their own. Honoré has been recently haunted by the death of his mother, an event which happened in his childhood, but now there seems to be a way to reverse that event... but at what cost?
When faced with two of the most dangerous people they have ever encountered, Honoré and Emily must make some decisions with far-reaching consequences.
Part mystery, part detective story, part dark fantasy, part science fiction... original adventures in time and space.