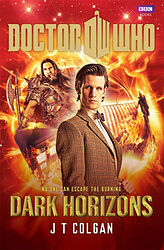 Edition:
UK (hardback)
Released:
July 2012

Publisher:
BBC Books
ISBN:
978-1-84990-456-8
Format:
hardback
Owned:
Buy:

New:

£12.99

£10.39 Save 20%
Used:
£1.53
Cover blurb:
'I know you.' The Princess tossed back her long braids. 'You have many faces.'
The Doctor stopped what he was doing and looked up. 'Go on,' he said quietly.
'You are the shape shifter. The trickster. You are Loki. The worst of Valhalla's Gods.'
'The worst?' said the Doctor, wounded. 'That's a bit strong. What about that chap with the thunder hammer?'
Inside cover flaps read as follows:
'Now, you may or may not have noticed, but we appear to be on fire...'
On a windswept Northern shore, at the very tip of what will one day become Scotland, the islanders believe the worst they have to fear is a Viking attack.
Then the burning comes. They cannot run from it. Water will not stop it. It consumes everything in its path — yet the burned still speak.
The Doctor is just looking for a game on the famous Lewis chess set. Instead he encounters a people under attack from a power they cannot possibly understand. They have no weapons, no strategy and no protection against a fire sent to engulf them all.
Add in some marauding Vikings with very bad timing, a kidnapped princess with a secret of her own and a TARDIS that seems to have developed an inexplicable fear of water, and they all have a battle on their hands.
The islanders must take on a ruthless alien force in a world without technology; without communications; without tea that isn't made out of bark. Still at least they have the Doctor on their side... Don't they?
A thrilling new adventure starring the Doctor, as played by Matt Smith in the spectacular hit series from BBC Television
J.T. Colgan has written 13 bestselling novels as Jenny Colgan, which have sold over 2.5 million copies worldwide. Aged 11, she won a national fan competition to meet Doctor Who and was mistaken for a boy by Peter Davison. She lives in France.