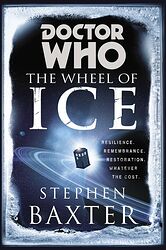 Edition:
US (hardback)
Released:
December 2012

Publisher:
Ace Books
ISBN:
978-0-425-26122-4
Format:
hardback
Owned:
Buy:

New:

$28.50

$21.51 Save 25%
Used:
$13.93
Cover blurb:
Praise for Stephen Baxter:
'A stunning talent!' — Locus
'Highly intelligent, with original ideas in almost every sentence.' — The Guardian (UK)
'Time places Baxter firmly in the tradition of Arthur C. Clarke and Isaac Asimov.' — The Times (UK)
'Technically brilliant and downright exciting.' — SFX
Inside cover flaps read as follows:
From Stephen Baxter, master of science fiction and national bestselling author of Bronze Summer, comes an all-new Doctor Who adventure...
Hurtling through a vortex beyond time and space is a police box that's not a police box. The TARDIS has carried the Doctor and his companions, Jamie and Zoe, to all sorts of places, but now, when they don't want to go anywhere, the TARDIS makes a decision for them. Like it or not, they're coming in for a landing, who knows where or when...
The Wheel: a ring of ice and metal turning around a moon of Saturn, home to a mining colony supplying a resource-hungry Earth. It's a bad place to live — and a worse place to grow up..
The colony has been plagued by problems. Maybe it's only a run of bad luck, but the equipment failures and thefts of resources have been increasing. And among the children there are stories of mysterious creatures glimpsed aboard the Wheel. Some of the younger workers are even refusing to go down into the warren-like mines any more.
And then one of them, surfing Saturn's rings, saves an enigmatic blue box from destruction.
Once on the Wheel, the Doctor and his companions face a critical situation when they become suspected by some as the source of the ongoing sabotage.
They soon find themselves caught in a mystery that goes all the way back to the creation of the solar system. A mystery that could destroy the Wheel — and kill them all...
Stephen Baxter is a trained engineer with a degree in mathematics from Cambridge and a doctorate in aero-engineering research from the University of Southampton. After teaching for a number of years and working in the information technology management industry, he began writing full-time in 1995. He is a winner of the British Science Fiction Award and the Locus Award, as well as a nominee for several Arthur C. Clarke and Hugo awards. His novel Voyage won the Sidewise Award for the best alternate history novel of the year, and he won the Philip K. Dick Award twice, for The Time Ships and for Vacuum Diagrams. He is also a recipient of the John W. Campbell Award for The Time Ships. Visit his website at www.stephen-baxter.com.