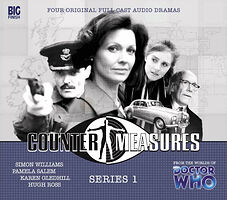 Cover blurb:
FOUR ORIGINAL FULL-CAST AUDIO DRAMAS
The Counter-Measures Group: formed by the British Government to investigate new technologies, the unexplained... and alien incursions.
THRESHOLD
A missing scientist and ghostly phenomena bring Gilmore and Allison to a factory in Bermondsey, and the discovery of a science that should not exist.
ARTIFICIAL INTELLIGENCE
Sent to investigate a mysterious suicide at the Sen-Gen Facility, the group discovers a new weapon in the Cold War — and Gilmore meets an old flame.
THE PELAGE PROJECT
A case of industrial pollution leads the group to the new industrial town Pelage, and a dangerous meeting with its leader Ken Temple...
STATE OF EMERGENCY
When the government is in jeopardy, Rachel, Allison and Gilmore take on a faction staging a very un-British coup...