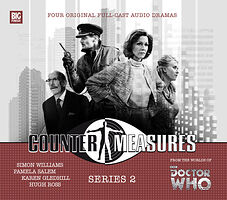 Note: Contains 4 audio dramas: Manhunt by Matt Fitton, The Fifth Citadel by James Goss, Peshka by Cavan Scott and Mark Wright and Sins of the Fathers by John Dorney. Also contains a disc of behind-the-scenes interviews.
Cover blurb:
FOUR ORIGINAL FULL-CAST AUDIO DRAMAS
The Counter-Measures Group... Formed by the British Government to investigate new technologies, the unexplained... And alien incursions.
MANHUNT
With one of their own on the run, the Counter-Measures team is suffering from divided loyalties. Can their friend really be a murderer?
THE FIFTH CITADEL
The future of the world is at stake and an old friend may turn out to be its saviour — or its annihilator.
PESHKA
An International chess tournament is an odd event for Counter-Measures to be attending, however Sir Toby reveals rather more is going on under the surface.
SINS OF THE FATHERS
An old case resurfaces and comes to a violent and enigmatic end. A dangerous killer is on the loose... but is the real danger closer to home?