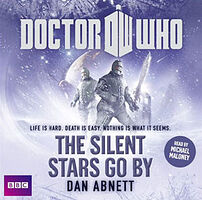 Edition:
UK (CD)
Released:
November 2011

Publisher:
BBC Audio
ISBN:
978-1-4458-7733-4
Format:
6 x CD
Owned:
Buy:
Cover blurb:
Michael Maloney reads this original adventure by Dan Abnett, featuring the Eleventh Doctor, Amy and Rory
For centuries the Maintainers have worked. With no help from other worlds, they subsist on the food they can grow and that's little enough. But their purpose, their whole life, is to maintain the machines that will one day make their world as habitable as old Earth.
Life used to be hard. Now as crops fail, livestock sicken, and the temperature drops, it's becoming impossible. This year's Winter Season Feast won't be the usual celebration. It's no time for optimism or hope — or to welcome unexpected guests. The Doctor, Amy and Rory find a society breaking apart — and then the Doctor's old enemies the Ice Warriors make their move. With the cold-hearted threat of invasion, the real battle for survival begins. Or does it? The Doctor suspects that behind everything lies a deadlier, even more chilling danger...
A thrilling adventure featuring the Doctor, Amy and Rory, as played by Matt Smith, Karen Gillan and Arthur Darvill in the spectacular hit series from BBC Television.
Michael Maloney won Best Actor/Best Supporting Actor awards for his role as Prince Hal in Henry IV Parts 1 and 2. Among his films are Truly Madly Deeply and Henry V, and TV credits incloude Love on a Branch Line and Living with Dinosaurs.