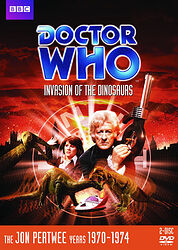 Note: In the UK and Australia, this story was released as part of the U.N.I.T Files box set instead.
Cover blurb:
Returning to London, the Doctor and Sarah Jane find a city almost completely devoid of life. The civilian population has been evacuated in the wake of an unimaginable event: somehow dinosaurs have returned to terrorize the Earth.
As the Brigadier and UNIT fend off increasingly vicious attacks from gigantic prehistoric reptiles, the Doctor investigates just how these monsters are appearing without warning. But when Sarah Jane is kidnapped, the Doctor realizes perhaps even his oldest friends can't be trusted.
Who is responsible for the devastating carnage? And what will Sarah Jane do when she awakes aboard a spaceship many light years from home?
DVD EXTRAS INCLUDE:
Audio Commentary by actors Richard Franklin (Mike Yates), Peter Miles (Professor Whitaker), Terence Wilton (Mark), designer Richard Morris, script editor Terrance Dicks and director Paddy Russell, moderated by Toby Hadoke
Additional commentary by John Levene (Sgt. Benton) for 10 minutes on Part Five
People, Power and Puppetry Making of (32 mins)
Deleted Scenes (4 mins)
Now And Then (13 mins)
Billy Smart's Circus with Jon Pertwee and his Whomobile (1 min)
Doctor Who Stories: Elisabeth Sladen Part 1 (14 mins)
Option to play Part One in new color-recovered version or pre-existing black-and-white version
Photo Gallery (6 mins)
PDF materials: Radio Times Listings
Production Notes Subtitle Option
Digitally remastered picture and sound quality
Originally transmitted January 12 - February 16, 1974