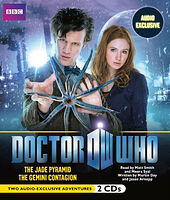 Note: Box set containing The Jade Pyramid and The Gemini Contagion. The back cover also bears the subtitle "The New Adventures: Volume Two" (although this does not appear on the front cover) which places it in sequence with the similar releases Volume One and Volume Three. Subsequent releases by BBC America abandoned this numbering scheme altogether.
Cover blurb:
Two Original Doctor Who Adventures, Read by Matt Smith and Meera Syal of the Hit Series on BBC America!
THE JADE PYRAMID, written by Martin Day and Read by Matt Smith
Intercepting a distress call, the TARDIS is drawn to a Shinto shrine in medieval Japan, where the Doctor and Amy are met by a village elder. He explains that the ogre-like mannequins surrounding the holy site are harmless guardians called Otoroshi. At the heart of the temple is an ancient jade pyramid so sacred that only the monks may look at it. But the ruler of Japan wants to possess the pyramid, and has ordered seven samurai and a band of soldiers to seize it. While the Doctor is tracked by a ninja assassin, Amy discovers what happens to trespassers at the shrine. Soon the secrets of the jade pyramid will be known... The Jade Pyramid is read by Matt Smith, who plays the Doctor in the acclaimed hit series by BBC America.
THE GEMINI CONTAGION, written by Jason Arnopp and Read by Meera Syal
The ice-planet Vinsk, in the year 2112. A new anti-viral handwash, Gemini, has been laced with Meme-Spawn: a sentient micro-organism which makes the user fluent in every language in the universe. However, manufacturer Zalnex made one crucial mistake. They didn't test Gemini on humans, who are seized by the violent urge to communicate but speak every language all at once — with a manic, garbled shriek — and pass on the virus by touch. The Doctor and Amy arrive on an Earth-bound cargo-ship loaded with Gemini, where a human crew are succumbing to the virus. They both know that it's only a matter of time before Amy is infected. With the ship locked on course, and no way of curing the sufferers, the Doctor is faced with a terrible decision: save Amy, or save Earth?
Also Enjoy The Runaway Train and The Ring of Steel, two audio-exclusive adventures available as a 2-CD set from AudioGO.