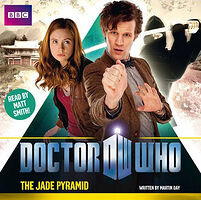 Starring:
Matt Smith
By:
Martin Day
Rating:
7 (5 votes) Vote here
Review:
Great setting, nice reading, but... Read more (1 in total)
Released:
January 2011

Publisher:
BBC Audio
ISBN:
978-1-4084-2749-1
Format:
1 x CD
Owned:
Buy:
Note: Subsequently re-released as part of the box sets New Adventures: Volume 2, Thrilling Adventures: Volume 1, TARDIS Adventure Collection and Eleventh Doctor Tales.
Cover blurb:
Matt Smith reads this exclusive audio story featuring the Eleventh Doctor and Amy Pond.
Intercepting a distress call, the TARDIS is drawn to a Shinto shrine in medieval Japan, where the Doctor and Amy are met by village elder Shijô Sada. He Explains that the ogre-like mannequins surrounding the holy site are harmless guardians, called Otoroshi.
At the heart of the temple is an ancient jade pyramid, so sacred that only the monks may look at it. But the Shogun, the ruler of Japan, wants to possess the pyramid and has ordered seven samurai and a band of soldiers to come to Kokan and seize it.
Whilst the Doctor is tracked by a ninja assassin, Amy discovers what happens to trespassers at the shrine. Soon the secrets of the jade pyramid — and the towering otoroshi — will be known...
Written specially for audio by Martin Day, The Jade Pyramid is read by Matt Smith, who plays the Doctor in the acclaimed hit series from BBC Television.