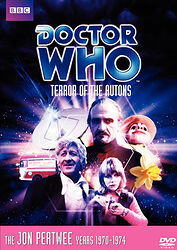 Note: This story was only released separately in the US. In the UK and Australia it was instead released as part of the Mannequin Mania box set.
Cover blurb:
The Doctor is still trapped on Earth and unable to use the TARDIS, but the Time Lords are looking out for him. They send warning that the Master has come to Earth, and the Doctor soon discovers that the dangerous Time Lord is also working alongside the Nestene Consciousness, controller of lethal Auton creatures.
Once again, the planet is in terrible danger. Can the Doctor and his new assistant Jo Grant save it before it's too late and the true terror of the Autons is revealed?
DVD EXTRAS:
Audio Commentary by Actors Katy Manning (Jo Grant), Nicholas Courtney (the Brigadier) and producer/director Barry Letts
Life On Earth Making Of with Katy Manning, Richard Franklin (Captain Yates), script editor Terrance Dicks, producer Barry Letts, new series producer Phil Collinson and Jon Pertwee (through an archive interview) (33 mins)
The Doctor's Moriarty Retrospective on the Master (19 mins)
Plastic Fantastic How did the series writers take something as everyday as plastic and turn it against us? (11 mins)
Photo Gallery (6 mins)
PDF materials: Radio Times Listings, promotional material for Doctor Who Sugar Smacks and Nestle Products
Production Notes Subtitle Option
Digitally remastered picture and sound quality
Originally transmitted January 2 - 23, 1971